How do I join my program on Wonderschool 2.0?
If your provider is using Wonderschool 2.0 for parent communication and payments, they will be able to invite you to join their program on the Wonderschool platform. Your provider can send you an invite via email to create your Wonderschool account and then download the Wonderschool 2.0 mobile app.
The below video shows the experience of the parent. You can scroll down to see the breakdown in more detail.
When a provider adds your child to their Wonderschool platform and adds your email address as a point of contact, you will receive an email that looks like this:
The email will briefly describe the purpose of the provider using Wonderschool for their program. You can click the "Get Started" button to create your free parent account.
When you click the button, you will be taken to a page to create your password. Choose a password and click "Set my password".
After this, you'll see a success screen and can click the link to "return to the sign in page" and ensure your information is correct:
On the sign in page, you will finish signing in by entering in your email address and password. Then click "Log in":
Finally, you'll be signed into your account and asked to download the mobile app. You will not need to log into the web moving forward, you will only need to use the mobile app with your provider.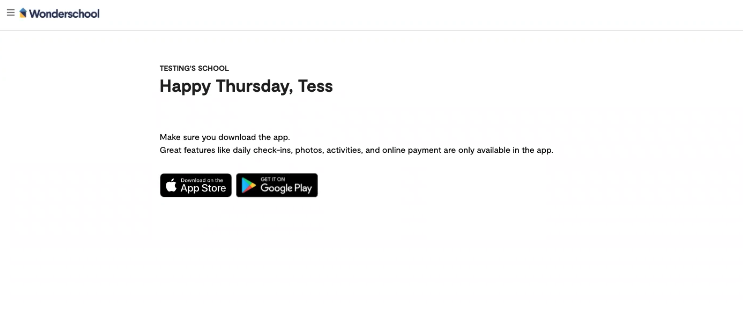 If you're having any trouble with these steps, please reach out to our support team at support@wonderschool.com so we can assist you.